Liposuction, sometimes referred to as "lipo" by patients, slims and reshapes specific areas of the body by removing excess fat deposits and improving your body contours and proportion.
What liposuction can treat
Thighs
Hips and buttocks
Abdomen and waist
Upper arms
Back
Inner knee
Chest area
Cheeks, chin and neck
Calves and ankles
Liposuction can be performed alone or along with other plastic surgery procedures, such as a facelift, breast reduction or a tummy tuck.
Who is a good candidate for liposuction?
Liposuction is a highly individualized procedure. You should do it for yourself, not to fulfill someone else's desires or to try to fit any sort of ideal image.
Who is a good candidate for liposuction?
In general, good candidates for a liposuction include:
Adults within 30% of their ideal weight who have firm, elastic skin and good muscle tone
Healthy individuals who do not have a life-threatening illness or medical conditions that can impair healing
Nonsmokers
Individuals with a positive outlook and specific goals in mind for body contouring
If you are bothered by excess fat deposits located anywhere on your body that don't respond to diet or exercise, liposuction may be right for you.
How should I prepare for liposuction?
In preparing for liposuction surgery, you may be asked to:
Get lab testing or a medical evaluation
Take certain medications or adjust your current medications
Stop smoking
Avoid taking aspirin, anti-inflammatory drugs and herbal supplements as they can increase bleeding
Liposuction should be performed in an accredited office-based surgical facility, licensed ambulatory surgical center or a hospital.
Be sure to arrange for someone to drive you to and from surgery and to stay with you for at least the first night following surgery.
What are the steps of a liposuction procedure?
The liposuction procedure includes the following steps:
Step 1 – Anesthesia
Medications are administered for your comfort during the surgical procedure. The choices include local anesthesia, intravenous sedation and general anesthesia. Your doctor will recommend the best choice for you.
Step 2 – The incision
Liposuction is performed through small, inconspicuous incisions.
First, diluted local anesthesia is infused to reduce bleeding and trauma. Then a thin hollow tube, or cannula, is inserted through the incisions to loosen excess fat using a controlled back and forth motion. The dislodged fat is then suctioned out of the body using a surgical vacuum or syringe attached to the cannula.
Problem areas that can be addressed with liposuction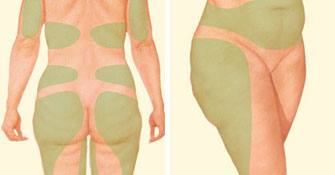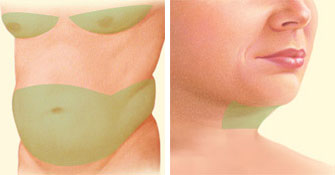 Step 3 – See the results
Your improved body contour will be apparent once the swelling and fluid retention commonly experienced following liposuction subside.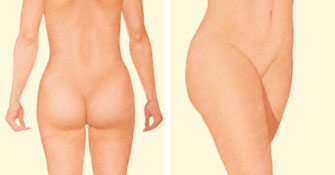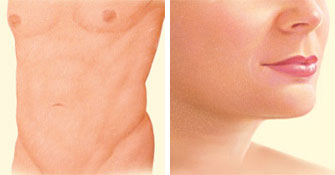 What should I expect during my liposuction recovery?
During your liposuction recovery, a compression garment or elastic bandages may cover treatment areas once your procedure is completed. These help to control swelling and compress the skin to your new body contours.
In addition, small temporary drains may be placed in existing incisions beneath the skin to remove any excess blood or fluid.
You will be given specific instructions that may include:
How to care for the surgical site and drains
Medications to apply or take orally to aid healing and reduce the potential for infection
Specific concerns to look for at the surgical site or in your general health
When to follow up with your plastic surgeon
Be sure to ask your plastic surgeon specific questions about what you can expect during your individual recovery period:
Where will I be taken after my surgery is complete?
What medication will I be given or prescribed after surgery?
Will I have dressings/bandages after surgery?
How long will I wear the compression garment?
Are stitches removed? When?
When can I resume normal activity and exercise?
When do I return for follow-up care?
It may take several months for the swelling to fully dissipate. As it does, your new contours and enhanced self-image should continue to develop.
How Much Can I Save on Liposuction Prices Abroad?
Liposuction costs vary, depending on the area you are having done. Larger areas, such as your tummy will cost considerably more than, say, your upper arms. Generally, most people see savings of 50-80% by traveling abroad.